Description
Related Products
Reviews
Zilmet 25 Litre Heating Expansion Vessel
25L expansion vessel absorbs water volume variations in closed heating systems maintaining pressure

Helps to reduce energy consumption, and meets the requirements of various heating systems

Shell: Carbon Steel, Water Connections: Carbon Steel, Membrane: Synthetic Butyl Rubber (SBR)

Precharge: 2bar, Pmax: 4bar, Connection (BSP): 3/4, Diameter: 324mm, Height: 415mm

Correct size of vessel must be considered prior to installation and installed by trained engineers
Zilmet Cal-Pro Range of Expansion Vessels- 25L
Designed for domestic and commercial unvented central heating systems

The CAL-PRO expansion vessels absorb the water volume variations in closed heating systems maintaining constant pressure, helping to reduce energy consumption.

The purpose of these vessels is to accommodate the increased liquid volume which occurs during system heating in an Unvented Circuit. A pressurised membrane allows ingress/egress of the liquid only during periods of heating / cooling. The correct size of vessel must be considered prior to installation and installed by appropriately trained engineers.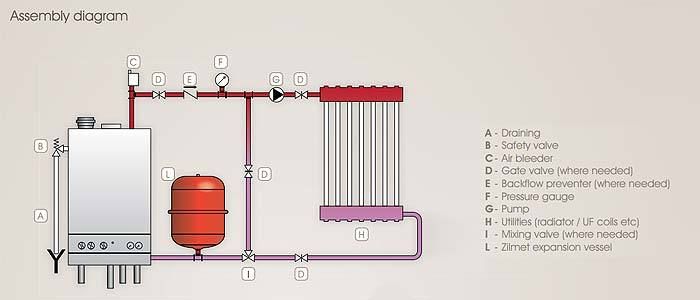 Features
Shell: Carbon Steel
Water Connections: Carbon Steel
Membrane: Synthetic Butyl Rubber (SBR)
Diameter: 324mm
Height: 415mm
Precharge: 2bar
Pmax: 4bar
Connection (BSP): 3/4" G
Colour: Red
System Kit & Bracket Suitable: Yes