Description
Related Products
Reviews
Arian is proud to present one of the best thermostatic shower valves you can imagine, packed with great new technological, economical and safety features, which combine with perfect unity to provide the perfect showering experience!!

Featuring the latest anti-scald technology, plus the valve itself is pre-set to a safe and optimal 38°C, which is the optimal and most economical showering temperature. This shower valve provides superior thermostatic control when the water pressure in your home fluctuates. This technology will save your loved ones, especially babies and the elderly, from being scalded. The constantly regulated temperature gives users more precise control and safe showering.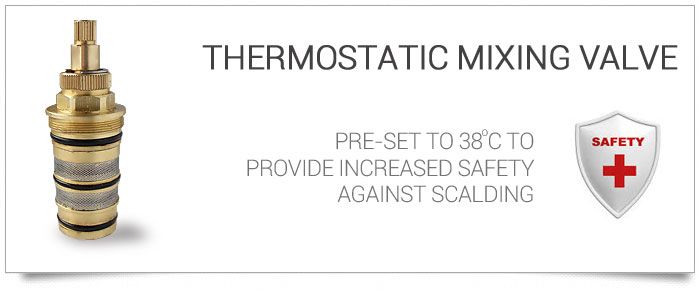 This exposed thermostatic shower valve has a long, smooth, slim and cylindrical design. The shape and sleek design of this valves allows for a spacious showering unit. The valve is constructed from a heavyweight premium brass for long-lasting strength and durability, and is perfectly complemented with a contemporary shiny chrome finish. This exciting new thermostatic valve has also been fitted with the modern non-return valve technology, which prevents the back-flow of water, making the valve efficient, more streamlined and safe.

There are two ergonomically designed turn handles, which provide separate water flow and temperature controls. The left handle controls the water pressure flow, turning the handle clock-wise will increase the pressure, taking you from a slow and calm showering experience, to a fast, invigorating and refreshing shower for those early mornings. The right turn handle is the control for temperature regulation, which is pre-set at the optimal temperature of 38°C. This can be easily offset by holding down the safety push and click button on the handle to allow for hotter temperatures. When you want to revert back to the optimal 38°C then just turn the control handle back until the push button clicks back. This push and click button safety feature has been specially designed for this valve to help you to safely and efficiently regulate the shower temperature. Both control handles have a smooth turning action and drip free operation due to the innovative ceramic disc technology. The control handles have their respective designs and temperatures neatly laser etched to provide the fine aesthetic detailing on the valve.

This exposed thermostatic mixer shower valve is packed with great modern technology, all encompassed in a beautifully elegant body, to provide the very best shower system that will suit any style of bathroom, especially yours!

Features
Exposed thermostatic shower mixer valve 1/2"
Solid premium brass construction for strength and durability
Non-return valve installed to prevent the back flow of water
Contemporary high quality shiny chrome finish
Long, sleek, slim and cylindrically modern design
Hot and cold water inlets
150mm between pipe inlet centres
Separate water flow and temperature controls
Ergonomically designed control handles for temperature and water flow pressure
Temperature control handle features new 'Push and Click' button
Anti-scalding set at 38 degree
Maximum temperature setting to help prevent scalding
Constantly regulated temperature gives the user more precise control
Bottom outlet connection thread: 1/2"
High quality valve for smooth operation
Comes complete with fittings, Z-connectors and chrome concealing plates
Wall Mounted
Min pressure required : 0.5 bar (For best performance we recommend 1 bar pressure)
Compatible with
Low Pressure Gravity-Fed Systems
Pumped Gravity-Fed Systems (High Pressure)
Unvented High Pressure Systems
Combination Boiler High Pressure
The Arian Exposed Thermostatic Mixer Valves has a 5 year warranty against all manufacturing defects when used in normal domestic applications (excluding serviceable parts, neglect or abuse). Serviceable parts are covered for 12 months from the date of purchase and include the ceramic discs and thermostatic cartridge. The accessories included in this pack are also covered for 12 months (this excludes serviceable parts, neglect or abuse). Should a fault occur outside the warranty period, we do hold spares in our warehouse to get you up and running quickly. Once your order is placed, our dispatch team will process it quickly. We also advise that you wait for your goods to arrive and inspect them before booking a plumber.