Description
Related Products
Reviews
Brand New Arian 'Primera' Dual Lever Bath Filler Tap Mixer & Mono Basin Mixer Tap Pack in Chrome with Slotted Waste

The Arian 'Primera' premium bath filler & monobloc basin mixer taps have the perfect combination of strength, elegance, contemporary design and performance, which makes them the perfect taps for any style of bathroom, especially yours!!

These sleek designer bathroom taps highlight cutting edge contemporary aesthetic designs with a simple yet elegant look. These beautifully crafted taps will most certainly be a elegant and modern addition to your bathroom

Both taps have a robust heavyweight brass body, which gives them a superior construction for extra strength and long-lasting durability. This is perfectly complemented with a contemporary shiny chrome finish. They have a curvy square design with modern engineering, and innovative technology, to make them stylish and easy to use taps.

The taps have curvy square and pillar handles that are ergonomically designed, and have a simple turn action. They are also made from a high quality brass with a shiny chrome finish. The levers have an easy grip shape with the hot and cold symbols, or colour indices, on their corresponding heads. These handles have been designed to offer a smooth operation that provide precise water flow & temperature controls.

These taps have a single aerated spout that produces a calm and soothing water flow effect, which is an elegant and unique feature to compliment any style of bathroom. The oval shape of the spouts prevent small objects from getting stuck inside the spouts. Both taps have 1/4 turn ceramic disc cartridges to give a long lasting drip free performance.

Both the basin tap and bath filler have a specially designed high quality aerator attached to it, which acts as a filtration treatment source and allows for water softening, resulting in a smooth water flow and saves users from those surprise splashes! The aerator also helps to reduce water consumption, making the taps eco-friendly and saving you money!!

The taps have a strong and sturdy pillared body, with the basin tap being provided extra support from its square base plinth attached at the bottom. The plinth is also made of brass with a chrome finish, which helps to complete the basin taps beautiful modern aesthetics. The basin tap comes equipped with a slotted waste, see below for more information.

Features
Premium dual handle bath filler tap mixer with a stylish curved square design
Premium single lever monobloc basin tap mixer with a stylish curved square design
Deck Mounted
Body constructed from premium quality brass to give strength and durability for a long-lasting tap
Contemporary premium chrome finish
Twin lever handles to control flow and temperature on bath filler tap
Single handle monobloc basin tap mixer
Hot (H) and cold (C) laser etched symbols on basin mixer handle
Hot and cold colour coded indices installed on corresponding handles on bath filler tap
Aerated spout to help produce soft and calm water flow
Aerator acts as a filtration treatment source and allows for water softening, resulting in a smooth water flow
Reduce water consumption, making the taps eco-friendly
Strong and heavyweight pillared body for support
Basin mixer has a square plinth attached, with chrome finish, to complete modern aesthetic
1/4 turn ceramic disc cartridges to give a long lasting drip free performance
Minimum pressure required 0.5 bar, but we recommend a pressure of 1.0 bar for best performance
High quality slotted push button waste included, with BASIN MIXER ONLY
British standard connections
Easy to install and clean
Rust resistant
Fixings and fittings included
5 Year Manufacturers Guarantee!!!
Basin Mixer Slotted Waste

The basin mixer tap is supplied with a easy to use slotted click-clack waste. One press in the center of the waste will trap or release the water from your basin. This brand new slotted click-clack waste is the perfect companion for the basin mixer tap. Designed and manufactured with precision engineering, and with customer efficiency in mind, this click-clack waste is the perfect addition to complete any bathroom basin sink with a standard 1¼" connection.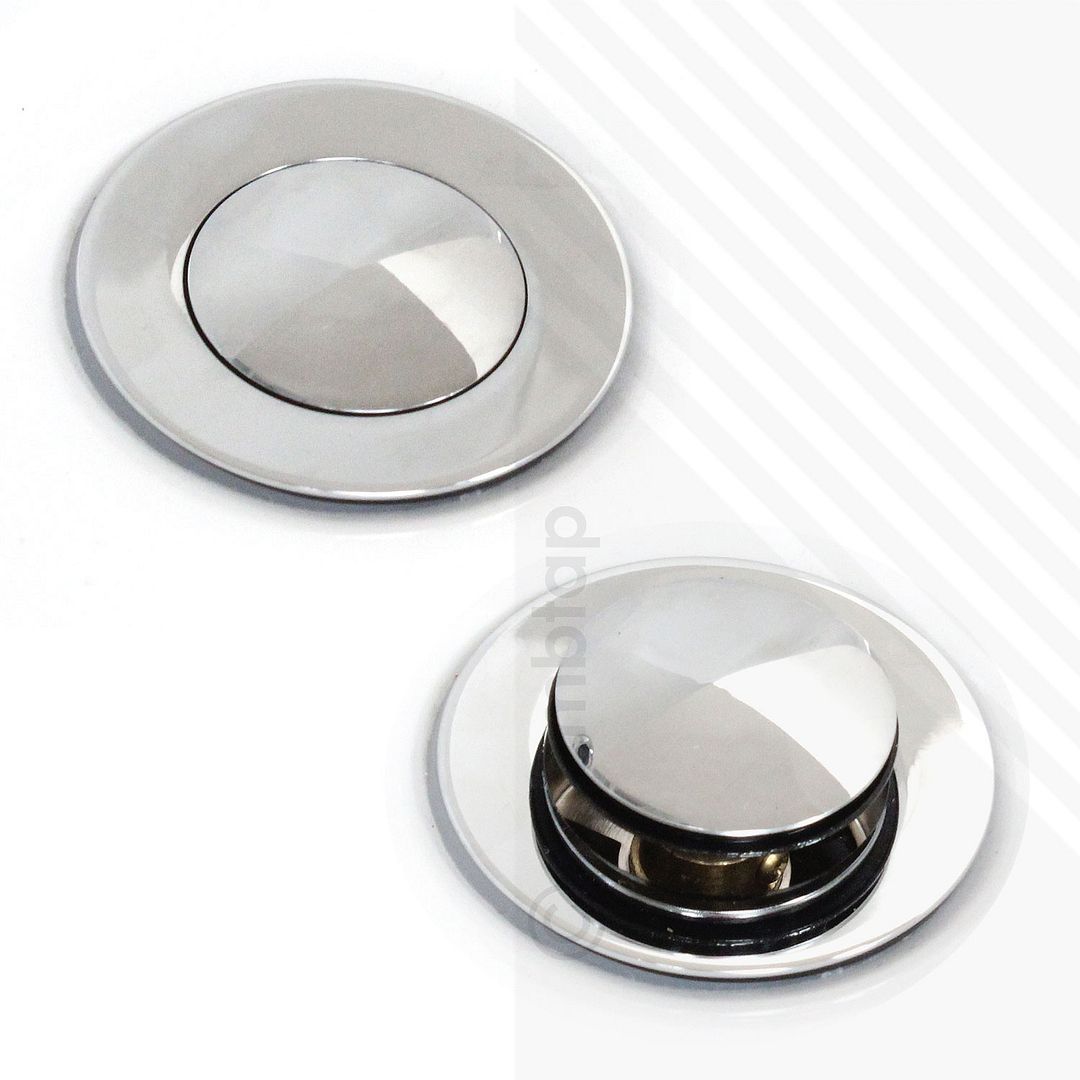 The waste has a round domed polished chrome cover, which beautifully compliments its basin mixer tap. The waste is also constructed from a high quality brass to ensure long-lasting strength and performance.

A slotted waste is for a basin that has a built in overflow (this is a hole placed near the top of the basin to prevent water from flooding your bathroom), the waste will connect to the overflow. Basin wastes are a standard 1¼" so you know immediately you are buying the right size.

Technical Specifications

Basin Mixer Tap
Full Height:114.0mm
Base to Spout: 44.0mm
Spout Projection: 83.0mm
Full Length:114.0mm
Waste
Round Domed Button : 60.0mm
Total Height (opened) : 98.8mm
Total Height (closed) : 89.8mm
Thread Height : 52.2mm
Thread Diameter : 40mm (1½")
Bath Filler Tap
Full Height: 108.0mm
Length of Spout: 110.0mm
Full Width: 220.0mm
1/2" British standard threaded connectors
This is one of the most elegant, premium quality, stylish and easy to use bathroom tap packs, from Arian, making it the perfect choice to help revitalize or reinvigorate any bathroom, especially yours! It's available NOW for a specially REDUCED and AFFORDABLE price!!