Description
Related Products
Reviews
Arian 'Ambian' 4 Mode Chrome Shower Handset

The Arian 'Ambian' shower handset is the perfect solution for those early mornings when you wake up feeling dull, groggy and tired, or when you just need to relax after a long and arduous day!!!

The 'Ambian' shower handset will provide instant refreshment in the morning, or help you feel relaxed in the evening. The 'Ambian' can be an excellent addition to any shower system, or it can just as easily serve as the primary shower head in any modern and up-scale bathroom. There are FOUR specially tailored shower modes to choose from:
Rainfall Spray: provides wide and full coverage with a luxurious rain spray pattern for a quick, powerful and instantly refreshing shower.
Mist: a unique shower mode, which provides a wide, soft, and dispersed water flow creating a fine mist to gently wash and massage the face, and help any exfoliation process.
Jets: provides a full impact, powerful, and concentrated shower for therapeutic relief.
Massage: provides a relaxing and soothing shower experience. The high quality mesh installed inside the massage spray nozzles helps create the perfect bubbly water flow, which will gently massage your body helping you to relax.
This shower handset is made from strong, durable and lightweight ABS, complemented with a contemporary shiny chrome finish. It has a modern, square and compact design with an easy to hold handle.

The shower head is slightly tilted at an angle, this coupled with the long handle, makes this handset perfect for those hard to reach places. There is a 'Press & Click' switch, conveniently located on the face of the handset, which can be pressed to change between the four showering modes. This handset can be attached to any standard shower hose connection.

This is a universal shower handset, with a standard 1/2" shower hose connection, and so is the perfect choice as a replacement part for any major U.K branded shower system, including Mira, Triton, Grohe, Bristan and Aqualisa!!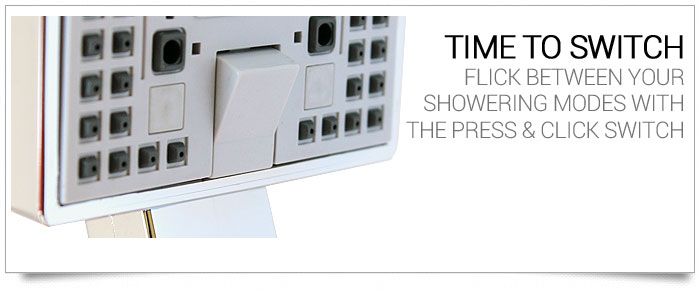 The Arian 'Ambian' shower handset provides a range of luxurious showering modes, which are complemented by its sleek and modern design, and all this is available now at a REDUCED & AFFORDABLE PRICE!!!

Features
Luxurious 4 mode beautiful modern shower handset
Contemporary chrome finish
Constructed from strong lightweight ABS for long-lasting durability
Wide surface area for full coverage during shower
Easy to grip ergonomical handle
'Press & Click' switch to change between the different shower modes
Edges and corners rounded off for safety
Easy to clean soft rubber nozzles and face plate
Compact and sleek design
Fits all 1/2" standard shower hoses
Compatible with the following systems: electric showers, pumped electric shower, bath and wall mixer showers, power showers, and combi unvented systems.
Compatible with the following manufacturers: Mira, Grohe, Triton, Aqualisa, Bristan, and most other UK brands
Technical Specifications
Full Length: 242mm
Face Width: 85mm
Shower Head Depth: 28mm
Handle Length: 160mm
Handle Width: 30mm
Handle Depth: 18mm
1/2" Standard Shower Hose Connection
Weight : 184g